Categories
Site Information
Flatbed Trailer Supplies - Straps, Binder Chains, Winch Bars etc
New 7-19-2019 UPDATE!
We are now partners in a factory! In our new Dallas, TX shop, we can now manufacture 1, 2, 3, 4" tie down assemblies with any kind of hardware or ratchet you need. Also... we've got way more wholesale deals on chain, binders and trailer hardware than I can list here. We are now stocking Peerless and Durabilt chain and hardware, and of course we've been Laclede Chain distributors for years.
We've been making all kinds of weird straps for the auto transport industry for years. And this year, we've already invented two different kinds of straps for the oil field services industry.
If your company needs a custom chain or strap, we love working on weird projects. We like providing solutions, not just selling the same chain as the guy down the street.
Check out our video!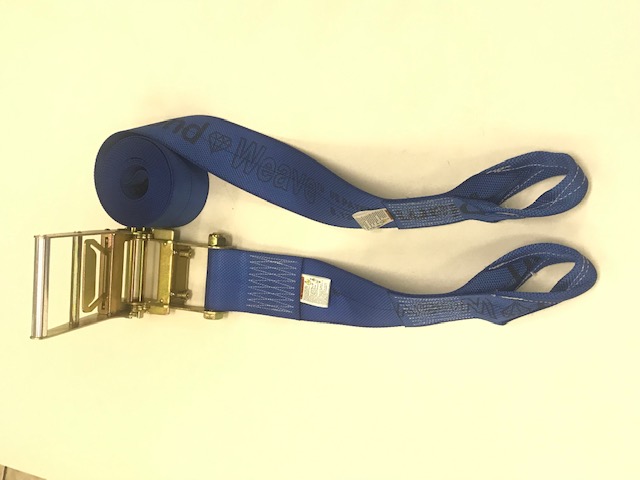 Call me and let me know what you're looking for 503-310-0494 --Steve, Founder & Head Sales Guy
Big Orange Cargo Straps in Atlanta, GA warehouse
(We doubt you've seen anything like these straps. Unfortunately, it's really hard to show the higher quality weave on a website. Please try some out, and let us know what you think!) To place order for Will Call Pick-Up in Atlanta, GA, please call 866-855-4285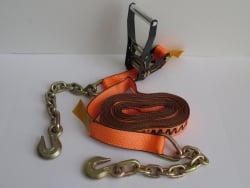 2" X 30ft Ratchet Strap with chain and grab hook 3,333 lb WLL $24.20 when you buy box of 8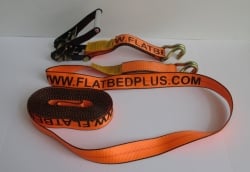 2" X 30ft Ratchet Strap with double J wire hooks 3,333 lb WLL $13.25 when you buy box of 8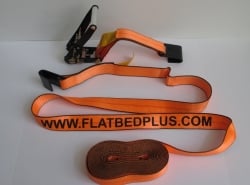 2" X 30 ft Ratchet Strap with flat hooks 3,333 lb WLL $13.76 when you buy box of 8

What makes Big Orange different?

Much tighter weave makes a thicker strapwith greater tensile strength and better wear characteristics.

Have you ever bought a cheap cargo strap from the hardware store and noticed how "ropey" it felt in your hands? The minute you take your new Big Orange straps out of the box, you'll feel the difference.

Ratchet handle is heavier plate steel with a more precise action. Have you ever bought a cheap ratchet strap and had to fight with it to get it to open and close properly? Not going to happen with ours.

And check out that smooth grip handle that is all metal!

Product testing. Because our intended market for these products is the trucking professional, we first test the hardware components to make sure they meet proper breaking strength. We then test finished assemblies to make sure stitching and workmanship meets or exceeds 3X the tagged working load limit.


Another great deal on 4" cargo strap w/ flat hook at our Atlanta Warehouse
AH-DM-430FH 4" X 30 ft Winch Strap with flat hook 5,400 LB WLL $8.90 each when you buy box of 10

We've now expanded our offering of extra durable Redstick height measurement poles!

Metric Height Measurement Pole Air Freight Height Stick-- Inches Only!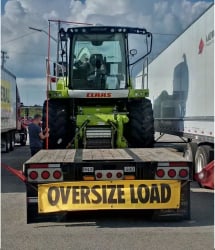 New Memphis warehouse

up and running! Binder chains (or boomer chains if you're from west Texas), ratchet binders, winch straps, C track, winches, ratchet straps. All ready for will call or fast shipping. If you're going to pick up at the Memphis warehouse, however, please call ahead 24 hours or more so we can have your order ready! Thanks! Steve and the gang.

We just got in an entire container of 15, 20 and 27 ft BIG RED trucker's height sticks

at the Atlanta, Georgia warehouse.

(My wife says these height sticks are more orange than red, but if you put them next to my Big Orange cargo straps, they look red to me.)

These are the highest quality, most durable height sticks you've ever used, or your money back. Place your order ahead of time by phone, and you can pick-up next day, or we can ship UPS-- your choice! Also, we now have an easy way for you to check all our latest deals in one place: Click HERE

for latest deals on winch straps, ratchet cargo straps, you name it!

By now you've probably heard of our LifeSaver height stick, but have you heard about our new, heavier-duty height stick simply called The Big Red Height Stick? It has thicker fiberglass tubes, waaaaaayyy stronger snap buttons, thick rubber bottom cup, LASER-ETCHED numbers and a big 4 foot swing arm to get a precise measurement of the center of your truck load. Also comes with a really cool cloth carrying bag. Best of all, because it is made out of 4 vertical sections, it collapses down much smaller than the Old Yellow Height Stick (Old Yeller, as we call it). At 4'5" collapsed length, it practically fits in your shirt pocket.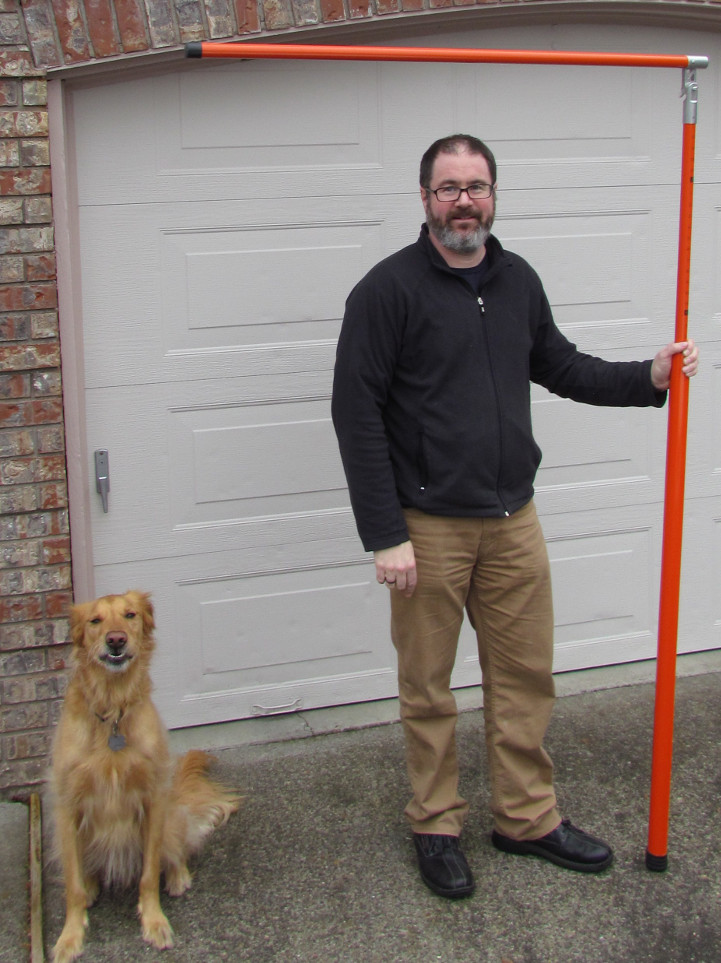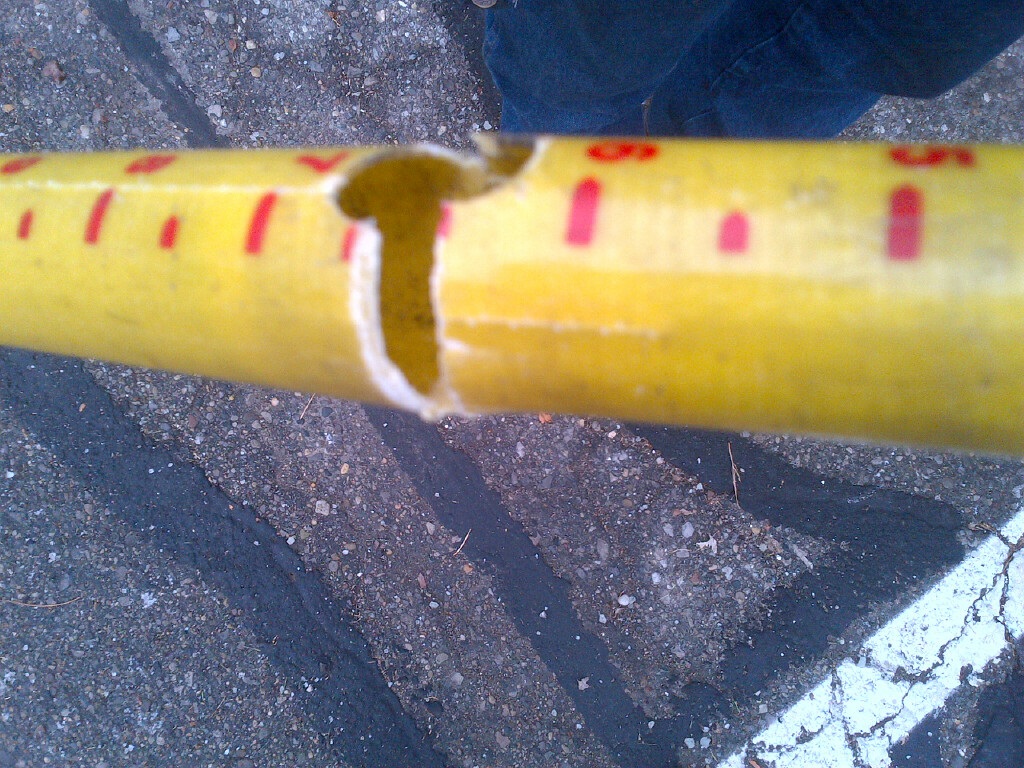 Are you tired of this happening ?

Sometimes, you get what you pay for!
February 21, 2014 Update:

We're pleased to offer custom-length cargo straps made with new, patented Diamond Weave material. This 2 inch and 4 inch cargo strap material is made in the USA. Diamond Weave received a patent because it significantly out-performed other straps in abrasion tests.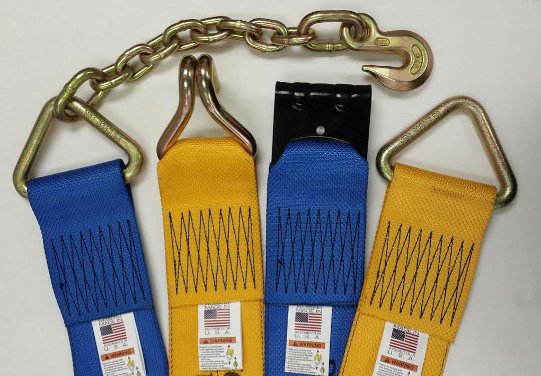 Still think America isn't manufacturing high quality tie-down cargo securement straps? Think again!
Thicker weave
Patented Diamond Weave construction resists abrasion
The edges of this strap are woven differently so that if a yarn is nicked, the entire strap does not begin to unravel.
Custom lengths are no problem
Also available in loop straps, endless ratchets and with hardware for auto tie-down.
Seeing (and feeling) is believing! Call 866-855-4285 and we will send you a free sample to evaluate.



Check out the huge transformer these over-size load experts had to tie down! (Click images to see the big pictures.) If you deal with large objects and over-size loads on a daily basis, you'll love our ability to produce custom lengths of Grade 100 chain, plus our large inventory of Peerless and CM chain and hooks. Need custom length tie-down straps? Rolls of rubber rope and S hooks? No problem!
We say that around here so much, it's getting to be our company motto: NO PROBLEM!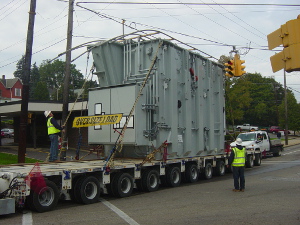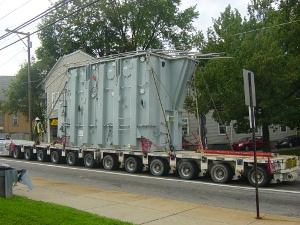 Specials
SKU: AH-DM-440FHx8

SKU: AH-DM-430FHx10

SKU: AH-DM-230FHx8

SKU: AH-DM-230DJx8

SKU: AH-DM-230CTx8

SKU: AH-REDSTICK-20

SKU: AH-REDSTICK-V2

SKU: AH-REDSTICK-M

SKU: AH-REDSTICK-AF

SKU: AH-REDSTICK-27

SKU: SP-H5125-0658

SKU: DB-DTT-1x4

SKU: LC-8592-236-14